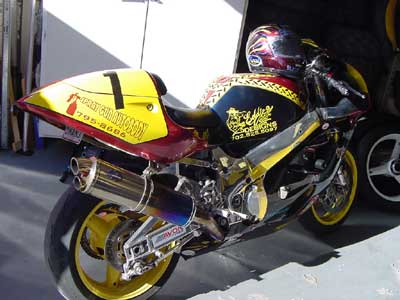 Future plans: I have a lot, hopefully become a pro
stunt rider or go to AMA Racing.
If not I've always wanted to be a
fire fighter, I was already a cop
in the Air Force so now I want to
be the other side.
Video Appearances: X-Country D-tour
coming Oct 2003
Tips or Advice: If you just started riding get
sliders, solid mount pegs &
a dampner, they will all save
your ass... Practice, practice,
practice... you never know what
new talent you come across.
Where do you see this sport going? X-Games
Sponsors: Teknic, LBZ, Dp Brakes, Versa Climber,
Impact Video, Pinit Motorsports,
X-Factor, Dulurn Georgia PD,
Asphalt Mag, pitbull, extreme graphics,
Dyno Jet, AJ Signs, Pistol Productions,
PMC Ammunition, Audio Excellence,
Arai, Intuitive Race Products,
Emgo Racing, Chatterbox,
Maxxis Tires, Kickstand & Wheelies,
Cycle Dreams Mag, Pricz Tattoo,
Streets & Strip Mag, Woodcraft, Motul